Arkiv » FIS Youth Cup 2020
FIS Youth Cup 2020
Orkland kommune, Knyken Ski Arena
On behalf of the International Ski Federation, the Norwegian Ski Federation and the Organizing Committee of FIS Nordic Combined Youth Cup, in Knyken Ski Arena, Orkland kommune, we have the pleasure of inviting all Member Associations of the International Ski Federation (FIS) to participate in:


FIS YOUTH CUP NORDIC COMBINED
Orkland kommune, Knyken Ski Arena
February 15th and 16th 2020




---
19.02.2020
FIS Youth Cup nordic combined 2020 was held in Knyken Orkdal at 15.-16.2. 2020. Orkdal IL and Knyken skisenter thank all participants for attending the championshp in Knyken!You can see some pictures from Saturdays event in this album.Welcome back to Orkland and Knyken skisenter!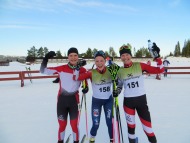 ---
14.02.2020
On behalf of the International Ski Federation, the Norwegian Ski Federation and the Organizing Committee of FIS Nordic Combined Youth Cup, in Knyken Ski Arena, Orkland kommune, we have the pleasure of inviting all Member Associations of the International Ski Federation (FIS) to participate in: